How To Deck Tips
Comparing the Differences in a Deck Stain
To protect a wood deck from sun fading and water damage, a quality deck stain is highly preferred. The durability, longevity, and appearance are normally the biggest factors in comparing deck stains. One factor may be more important to a deck owner than another but a thorough deck stain comparison may be able to reveal a deck stain with all these attributes.
There are so many different brands of deck stains as well as different types. First you have the choice of clear, transparent, semi-transparent, semi-solid, solid or opaque. Then you have the choice between water based, oil based, and even hybrids of both. Some stains are acrylic based and others are enhanced with silicone. Comparing deck stains can certainly be overwhelming. Start by eliminating the deck stains you do not want to help narrow your options.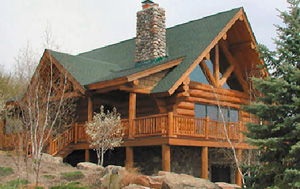 Log Home and Cedar Wood Siding Stain Tips
There is little debate that the climate you live in will take its toll on all your wood surfaces if they are not protected. Without adequate protection water and moisture can easily penetrate a wood surface causing it to swell. In the heat of the day the sun beats down on these same surfaces drying them out causing them to shrink up again. This constant expanding and contracting cycle causes the wood to split, crack, and splinter.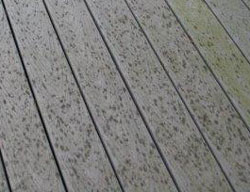 How To Seal Composite Decking and Tips
Composite decking is a synthetic blend of recycled plastic and wood. In the past decade or so composite decking has really taken off. This popularity was mainly due to the term "maintenance free" coined by the industry. Some of the major composite decking companies like Trex, Timber Tech, and Azek claimed that the composite decking material did not need to be cleaned or sealed like wood decking.
Finding the Perfect Deck Stain Color
Deck stain color choice is a crucial decision for many deck owners. Once the stain soaks into the wood it is difficult to reverse your decision. You can find the color choice of most any stain printed on the stain container label. You may also order or pick up some color swatches at your local stain store or go online to view the different color charts.
The difficulty with choosing a stain color from a picture or swatch is that it is only a close representation of what the color might look like. For example, some color tones are lighter in appearance than others due to the opacity of the deck stain. Many deck owners have been shocked by how different the color ended up being once they applied it to their deck, but it was too late.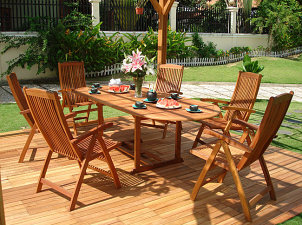 Staining Exterior Wood Furniture Tips
Outdoor wood furniture has long been used for decorative and practical purposes on porches, decks, and patios for many years. Exterior wood furniture is very durable and can last a lifetime if it is well taken care of.
Exterior wood surfaces like outdoor furniture are subjected to weathering. Water damage, sun fading, mildew, and graying are common of unprotected wood furniture. Every couple of years or as needed, wood furniture should be cleaned and protected with a wood stain. This will prevent weather damage and prolong the life of the wood furniture.