How To Deck Tips
Please read our How-To Deck Restoration articles below. You will find info on how to clean, stain and refinish your exterior wood deck. If you have any questions about your deck restoration project, please ask below an articles in the comment section to get help from the experts.
The use of a wood deck brightener is needed for two main reasons. The first is that wood brighteners are designed to restore the wood's pH balance to neutral after using a deck cleaner or a stain stripper. The second is that the deck brightener will lighten the wood color making the stain look better and last longer when applied.
Applying a deck brightener is the easiest step in the restoration process and the most fulfilling. The results are almost immediate in that you will be able to see the wood lighten in color right in front of your eyes. Brighteners will improve the durability of the stain as well. Please see picture below: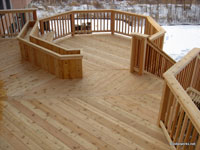 There are many questions as to when a newly installed deck should be stained. Some stain manufacturers suggest you should wait 3-12 months to let the wood dry while others say to stain the deck right away. The answer can be both just as long as you prep the new wood properly for an application of the stain.
We are going to explain both scenarios and the proper steps to take.
Let the New Deck Dry and Weather for 3-12 Months:
Most common suggestion by the manufacturer. New wood is suggested to dry since it has a high moisture content. This reduces the stains ability to penetrate.
The wood will dry and turn gray from the exposure to the sun's ultraviolet rays.
After 3-12 months you would need to apply a wood cleaner to remove the gray wood cells. This can be done with scrubbing and or light pressure washing. After cleaning the deck you will need to neutralize the wood deck cleaner with a wood brightener.
Let dry for 24-48 hours then apply your deck stain of choice.