Deck Restoration News

Any homeowner that has a wooden deck knows either the hassle of keeping it looking nice or how bad it can look when it is neglected. Wooden decks are extremely popular and for good reason. They add outdoor living space to your home and increase your home's overall value. When kept nice, wooden decks are certainly a huge plus for most any homeowner.
The downside to a wooden deck is the time and cost of maintaining it. Anything that is exposed to the elements will deteriorate overtime if it is neglected. Luckily, wood decks can be cleaned and waterproofed so they keep their like new appearance and last many years.
When it comes to quality wood protection, deck stains certainly get a lot of lip service. With so many brands and types of deck stains, it can be a bit tricky trying to find the right stain for your deck. In the past several years some deck stain companies have been increasing their warranties on their deck stain products.
Some deck stain companies claim their product will last 5 or even 7 years on a deck. They put this claim right on the front of the label and it certainly catches your eye. But how true is this claim? Can they actually say this if it weren't true? This is where things can get a bit deceiving.
First of all, if there was a deck stain that actually lasted as long as they claim, most every professional deck restoration contractor would probably be using it. But if you do a little research, you will quickly see that most of the professionals don't use the deck stains that advertise these false claims. As a matter of fact, most of them say these types of deck stains are junk and aren't what they claim.
Complaint after complaint said that the so called 5-7 year deck stains didn't even last a year. Everything from fading, water spotting, cracking, flaking, and peeling was all that any consumers were saying about it. To be honest, we couldn't find a shred of evidence of someone claiming that it did actually last as long as it claimed it would.
VOC (Volatile organic compounds) regulations are changing rapidly across the the nation. Not all of the stains and sealers that we sell are compliant for all states. As it stands 16 states have adopted the more stringent 250 regulation:
These states include: California, Connecticut, Rhode Island, Maine, Massachusetts, Michigan, New Hampshire, Vermont, Delaware, District of Columbia, Maryland, New Jersey, New York, Northern VA, Pennsylvania, Parts of Arizona, Ohio, Illinois, Indiana.
In addition certain counties in California have adopted 100 VOC regulations: LA County, Riverside County, Orange County, San Bernardino County.
See VOC Compliant Wood and Deck Stains for a list of stains that can be sold to you if you reside in one of theses states.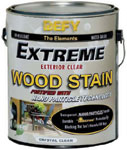 Nano-Technology has finally come around for the Wood and Deck Restoration Industry! Defy Extreme Wood Stain is the first and leader when it comes to utilizing the ability of this new technology into a clear wood finish that will not change the appearance!
Since 2005 there has been many changes with many states adopting new 250 VOC architectural coatings regulations. As it stands there are 15 states across the country with these regulations and another 8-10 states looking to adopt around 2009. What does this mean for exterior Wood and Deck Coatings?

MPI (Master Painters Institute) had a vision for a architectural coating industry that produces paints and coatings with balanced performance, safely and appropriately. In the past wood and deck coatings weren't always environmentally friendly! Oil Based stains can contain both organic and inorganic compounds or materials, some of which may impact our environment by releasing solvents into the ozone layer through their life cycle.
Now there are MPI Green Certified Wood Deck Stains on the market that embrace this vision!
It is often a common belief that the reason to preserve your exterior wood deck is to "seal" the wood so that it "beads" like a car wax. This is absolutely not true! This is a marketing ploy by the "Big Box" manufactures.
While it is helpful to prevent water damage, the main reason to treat your wood is for UV damage. If left untreated, the Sun's ultraviolet rays will oxidize and damage the exposed layer of wood cells. When using a transparent tinted wood deck stain or sealer, the tint will act like "sunglasses" for your wood. The tint will absorb the UV and prolong the oxidation that turns the exposed wood cells gray. This is very important if you want to have your wood keep its natural color. The natural and/or synthetic oils in the deck stains will also replenish the wood that has dried out from the UV damage.
Depending on your conditions you can expect a high-quality deck stain or sealer to last 18-36 months on the horizontals and twice as long on the verticals. See Deck Stain for more info.