Deck Stain Sealer Cleaners | Wood Decking Staining Sealing | Concrete
The Best Wood and Deck Stains! Cleaners and Sealers for Staining Exterior Wood, Decking, and Concrete Surfaces
The Best Wood and Deck Stains | Cleaners and Sealers for Staining Exterior Wood, Decking, and Concrete Surfaces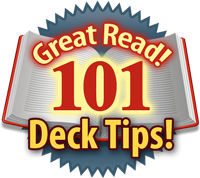 Welcome to The Sealer Store where you will find the Best Products and Best Prices for Exterior Wood and Concrete Restoration Supplies. We are committed to bringing professional grade exterior wood staining, sealing and cleaning products at reasonable prices with quick shipping.
The Sealer Store is for consumers who are searching for the best exterior wood stains, deck sealers, deck cleaners, and brick paver/concrete sealers. High-end wood and concrete restoration supplies that far exceed what can be bought typically at your local store in terms of durability, quality, and ease of use.
Operating since 1993, The Sealer Store has become the largest single online retailer of exterior deck stain, wood stains, concrete sealer, and brick paver sealers. We have sold enough stains and concrete coatings to cover 60+ Million Square Feet!
Wood and Deck Restoration How To Tips
Deck Stains Near Me

Any trip into your local hardware store will prove there are many deck stains to choose from. But when most people do a search for "deck stains near me" they are mostly looking for a quality type of deck stain. They are perhaps looking for a stain that will last longer than the stain the [ ... ]
Read More
Best Price Ipe Oil
Exotic hardwoods like Ipe are becoming popular for decks and other exterior wood surfaces. These woods are beautiful in nature and provide excellent durability. However, they do need to be protected with a wood stain to keep them from becoming weathered. Wood fading, graying, cracking and splitting [ ... ]
Read More
Oil Based Deck Stains in Canada
Having a deck in Canada means putting up with harsh weather, especially in the winter. This is the most vulnerable time when an exterior wood deck is subjected to moisture from rain and snow. It is also prone to freeze and thaw damage that occurs when melting snow and unwanted moisture penetrates th [ ... ]
Read More
Do I Strip or Clean Before Applying a Deck Stain?
While it is important that a deck needs to be protected from the weather it can make things worse by applying stain on a surface that has not been cleaned. Prior to applying a deck stain the wood should be free of dirt, mold, mildew, graying and any old failing stains. A clean bare wood surface will [ ... ]
Read More
Latest Deck Restoration Articles
Where to buy TWP Wood Deck Stain?

Where to buy TWP stain? If you are in need of a high-quality deck stain to provide protection for your deck and deck railings then you will most likely be considering the TWP stain brand as one of your options. The benefits of using this brand are plentiful as it is one of the most well-known and [ ... ]
Read More
Dry Time After Prep Before Applying Deck Stain
There are certain steps to take when protecting and preserving a wood surface like a deck, fencing, wood siding, roofing or a log home. The wood needs to be cleaned thoroughly and prepped prior to staining. A wood prep consists of cleaning the wood followed by a neutralizing process to open the wood [ ... ]
Read More
Water Based Deck Stain in Canada
Decks probably take the majority of abuse in colder climates. Winter can be especially harsh on a deck when moisture penetration and freeze/thaw damage is common. The key to a long lasting, beautiful deck in a cold region like Canada is using a stain that will hold up in tough conditions. Oil based [ ... ]
Read More
Where to Buy Ipe Oil
There is no doubt that Ipe and other exotic hardwoods are extremely dense in nature. This makes these woods tough to protect because most wood stains are not able to penetrate them. Penetration is necessary to protect these woods from harsh elements that cause discoloration and graying. Ipe Oil is s [ ... ]
Read More
Pavers and Concrete Restoration How To Tips
Super Seal Paver Sealers Near Me

Finding a quality paver sealer is half the battle in preserving and protecting surfaces such as stamped concrete, decorative cement, acid stained cement, exposed aggregate, and brick pavers. With many brands of paver sealers on the market it can be a daunting task discovering a sealer that will hold [ ... ]
Read More
Concrete Sealing Steps

Sealing Concrete and Bricks Sealing concrete and bricks are very easy. Just clean and apply a sealer. Water Repellent Sealers come in many various types and can be specific to the type of substrate that you will be sealing. The use of a pressure washer is suggested when cleaning exterior concret [ ... ]
Read More
Brick Paver Restoration Steps

Restoring Exterior Brick Pavers The steps needed to restore your Brick Pavers are relatively easy. All you need to do is clean, resand if needed, and apply a sealer. Paver Sealers can enhance the natural colors of your brick and come in Matte, Semi-Gloss, and Higher Gloss shine. If a "shi [ ... ]
Read More
10 Easy Brick Paver Restoration Tips
Must Read! 10 Easy Tips to Help You Restore and Seal Your Brick Pavers

1. If need be it is best to level any pavers that may have settled unevenly. Lift the unlevel brick and level the base by adding slag or heavy sand base. Do this prior to any sealing.

2. It there is an excessive amount of weeds an [ ... ]
Read More