We cannot Ship TWP 1500 To Canada. TWP 200 Series is Allowed in Canada
The new TWP® 1500 formula is designed to penetrate better, dry faster and outperform the previous TWP® 500 series formula.
TWP® 1500 Series is an EPA registered wood preservative which prevents structural damage and wood decay on exterior above ground wood surfaces such as untreated or previously treated fencing, decking, wood siding, log homes and roofing. TWP® 1500 Series resists water absorption that causes warping, cracking and splitting as well as preventing freeze damage in colder climates.
TWP® 1500 Series is a low VOC preservative with special U.V. absorbing pigments that prevent unsightly wood graying, darkening and fading. The selected mildewcides inhibit the growth of mold and mildew which assist in preventing premature discoloration.
TWP® 1500 Series will keep your wood beautiful, fresh and looking new longer. The ease of application and maintenance will allow you to enjoy your investment for years to come.
Key Features
Preserves natural wood color
EPA registered wood preservative
Professional choice for all exterior wood surfaces
Semi-transparent stain preserves natural color
Sheds water longer
Prevents mold and mildew
Helps prevent wood rot
Easy to apply and can be cleaned and recoated as needed
Helps in the prevention of warping, cracking and splitting
Low 250 VOC formula, compliant in 50 states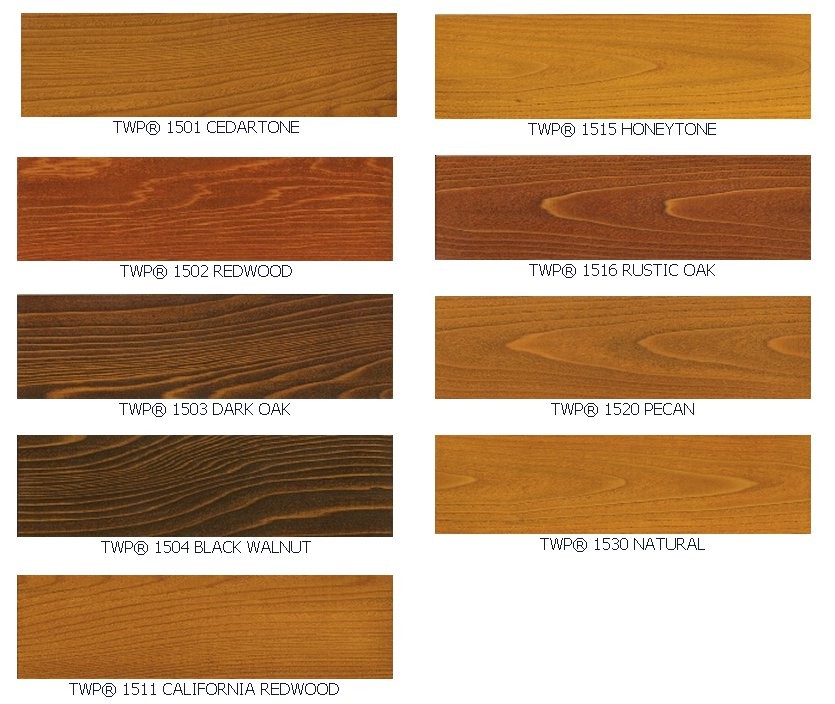 Parameters of Product: Deck/Wood Stains
2 Coats Wet on Wet
Coats Needed
Oil Based
Oil or Water Based
Semi-Transparents
Stain Transparency
All Wood Types Cedar/Redwood/PTP/Etc
Your Wood Type
3Horizontal_or_Vertical_Surfaces
Both
Horizontal or Vertical Surfaces