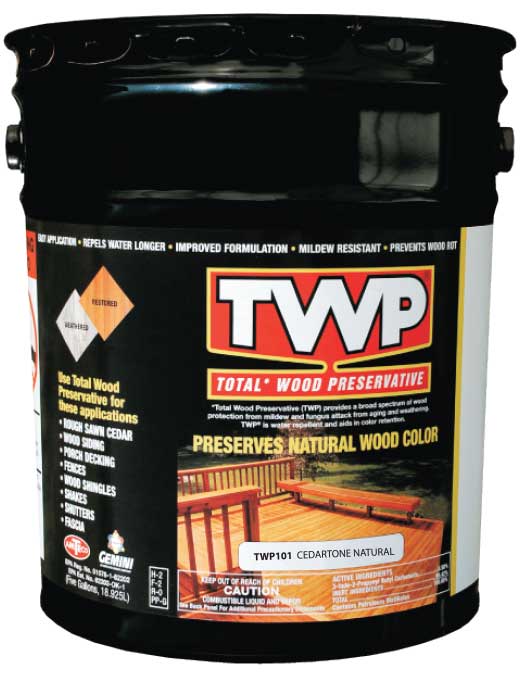 #1 Rated Wood Sealer/Stain!
TWP Total Wood Deck Stains and Preservative protects and preserves all exterior wood and decks. TWP Total Wood Preservative is a unique combination of chemicals in a professional strength formula that protects and preserves exterior wood in several ways.
TWP Deck Stain prevents water absorption that causes warping, cracking, and splitting. Prevents freeze damage in colder climates.
TWP Deck Sealer Stops U.V. Damage - Special U.V. absorbers prevent unsightly wood graying, darkening, and fading. Wood stays beautiful longer.
TWP Wood Stain Prevents Wood Rot - EPA registered wood preservatives prevent structural damage and wood decay for above ground surfaces. Especially important on untreated fencing and decking.
TWP Wood Sealer is Resistant to Mold and Mildew - Special mildewcides inhibit the growth of mold and mildew preventing premature discoloration.
TWP 100, TWP 1500 series are EPA registered wood preservatives and rated #1 in leading consumer magazines.
Excellent longevity on both vertical and horizontal surfaces.
Will not peel. TWP is a penetrating stain, not a film former.
Professional choice for all exterior wood surfaces.
Semi-transparent stain preserves natural wood color.
Repels water.
Aids in color retention.
Coverage:
TWP Wood Deck Stain applies at about 150-300 feet per gallon. Actual coverage varies depending on wood porosity.
Two coats "wet on wet" are recommended for maximum protection. TWP Wood Deck Stain must penetrate into wood for optimal results.
Please Note:
Due to these specific states VOC regulations TWP 100 series cannot be shipped to them: California, Connecticut, Rhode Island, Maine, Massachusetts, New Hampshire, Vermont, Delaware, District of Columbia, Maryland, New Jersey, New York, Northern VA, Pennsylvania, Ohio, Illinois, Indiana.
TWP 1500 series can be shipped to all 50 states.
TWP is a registered trademark of AMTECO, Inc.