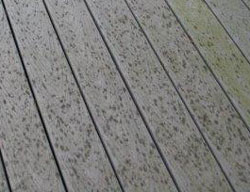 How To Seal Composite Decking and Tips
Composite decking is a synthetic blend of recycled plastic and wood. In the past decade or so composite decking has really taken off. This popularity was mainly due to the term "maintenance free" coined by the industry. Some of the major composite decking companies like Trex, Timber Tech, and Azek claimed that the composite decking material did not need to be cleaned or sealed like wood decking.
Over the years many of the composite decking companies found themselves in class action lawsuits with deck owners because the composite material was prone to water damage, fading, and mild/mildew and in fact did need to be maintained. Since then the industry has changed the term to "low maintenance." The bottom line is there is no horizontal exterior surface that does not need to be cleaned and/or sealed on a regular basis to enhance appearance and maintain longevity.
When mold and mildew starts to become noticeable on your composite deck it is important to clean it properly. The sooner you clean it the better because if the spores stay embedded for long enough they can be nearly impossible to completely remove. Clean the composite material deck with a percarbonate wood cleaner to remove all the unwanted soils.
After cleaning a composite deck, applying a clear water repellent can help to minimize the growth of new contaminants. Some of the best sealers for composite decking contain "zinc oxide" which naturally fights against mold and mildew. See Defy Composite Deck Water Proof Sealer
Sealing a composite deck will also help restore color and aid in the cleaning process the next time the composite wood decking needs maintenance. Most of the composite decking sealers apply easily with a pump sprayer and are user friendly.
Composite decking maintenance is crucial to the appearance and life of the decking. Regularly cleaning and sealing a composite wood deck will give your family a safe and clean outdoor area and will ensure many years of use.