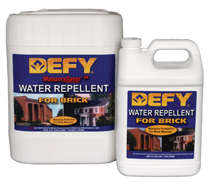 DEFY Water Repellent for Vertical Brick is a modified siloxane based product designed to penetrate deeply in to most masonry and concrete pores. This masonry waterproofing product allows deep penetration of its active ingredient of up to 1/4 inch or more.

The special siloxanes in DEFY Water Repellent for Brick react to form strong chemical bonds beneath a treated surface. These bonds allow the product to become a physical part of the structure and provide long-lasting water repellent protection without altering the appearance of the brick. DEFY Water Repellent for Brick treatment is 100% vapor permeable, which allows the water moisture to escape. This reduces costly chimney repair such as spalling, scaling, deterioration, and freeze-thaw damage that results from trapped moisture when clear coatings and water sealers are used for waterproofing brick.
Applies with pump sprayer
Coverage Rate:
Sq. Ft. per Gallon:
Brick: 100-150
Block: 50-75
Concrete: 75-150
Stucco: 75-150
Limestone: 75-150
Free shipping on all 5 Gallon Pails!
Defy Brick Water Repel Info
Gallon Sizes:
Temperature:
Cleanup:
1's and 5's

40 F Minimum
Water & Soap
Coverage Per Gallon:
Application Tools:
More Info:
Brick: 100-150
Block: 50-75
Concrete: 75-150
Stucco: 75-150
Limestone: 75-150

Sprayer
Dry Time:
1-2 Hours

Product Data