Important Note! Defy is introducing new Product Labels for 2019. The same great products are still inside, just new and improved labels.
-Please note that you may receive the new or older labels during this transition period!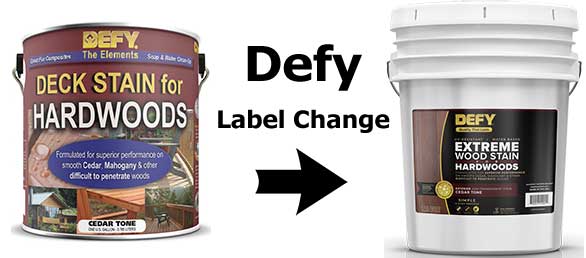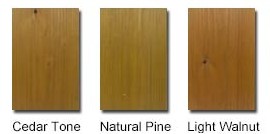 Free shipping on all 5 Gallon Pails!
If you are looking for the best stain for cedar decks in a water-based product, then look no further. DEFY Deck Stain for Hardwoods is a synthetic, semi-transparent finish specifically formulated for use on cedar, mahogany, redwood, and other dense or difficult to penetrate woods.
DEFY Hardwood Stain also works well on composite woods. It is a VOC-compliant stain that penetrates wood pores to block out water and provide long-lasting protection from weather damage.
DEFY Deck Stain Uses
DEFY Deck Stain for Hardwoods can be used on interior or exterior smooth hardwood surfaces including: wood siding, decks, outdoor wood furniture, and other hardwood surfaces. For more porous surfaces such as pressure treated lumber, pine and cedar log siding, or rough sawn lumber, use DEFY Extreme Wood Stain. DEFY Deck Stain for Hardwoods is available in Cedar Tone, Light Walnut, and Natural Pine. Finding a cedar stain or redwood deck stain product that actually works is difficult, as most deck stains have trouble penetrating oil-rich or dense wood types. This product was specifically designed with smaller resins to penetrate better which helps eliminate surface buildup and peeling. Other products out there claim to be the best stain for cedar decks but there is only one DEFY Deck Stain for Hardwoods.
Easy Maintenance
DEFY deck stains will give you years of protection for your deck and are easy to maintain. When the surfaces begin to look weathered and worn, which should normally be every 2-3 years and 3-5 years for the vertical surfaces, simply reapply a light maintenance coat. No need to strip the deck every time. It may be beneficial to use DEFY Wood Brightener to clean and brighten the surface before the maintenance coat. DEFY deck stains contain powerful sunscreens to block damaging UV rays. Ultra violet rays cause wood to turn gray and become susceptible to water penetration and decay. DEFY Deck Stain for Hardwoods contains synthetic resins that do not attract mildew and algae like other natural resin stains (oil-based products) do. Additionally, DEFY deck stains are water repellent.
Reviews
Friday, 05 May 2017
The Defy Hardwood will not darken in color on exterior hardwoods and is easily reaplied as needed.
Please log in to write a review. Log in
Loading comment...
The comment will be refreshed after

00:00

.
We will reply to your comment shortly

Use the Defy Hardwood Stain. Prep with the Defy Wood Cleaner. Do not use bleach on decks.

We will reply to your comment shortly

I have a new kiln dried cedar deck. Should I use Defy a Extreme or Defy Hardwood? Also - should I use a bleach cleaner before stained? Thanks.

We will reply to your comment shortly

If you switch then you you would need to remove the clear epoxy before apply the Defy Hardwood Stain. I would keep it the same then maybe switch next year.

We will reply to your comment shortly

For the past several years, we've used defy clear epoxy on our cedar deck. it seems to be Ok, although it peeled in places last year. Probably from applying too much. this year we sanded deck down and applied one coat of the clear epoxy finish. i'm not too happy with how it looks - too raw and unprotected. should we apply another coat of the clear epoxy defy or would it be better to use the hardwood deck stain?

thanks for any advise you can offer!

We will reply to your comment shortly

After pictures

[img]images/stories/johanna/Defy2.JPG[/img]

[img]images/stories/johanna/Defy3.JPG[/img]

We will reply to your comment shortly

Before pictures

[img]images/stories/johanna/before2.JPG[/img]

[img]images/stories/johanna/before3.JPG[/img]

We will reply to your comment shortly

After lengthy search for an environmentally friendly deck stain, I finally found "Defy for Hardwood", that is specifically created for cedar decks. It is a shame that big home stores do not keep it, as it turned out to be a wonderful product. It came with an instructional video, which was a plus for us, first time deck stainers. The first coat soaked into the wood in a bliss, and the soon applied second coat gave it a beautiful rich colored finish. The few drips on the siding could be cleaned off with a wet wipe right away, and with some soapy scrubbing if we recognized it minutes later. The material did not smell at all, like all oil based stains do, and birds came to sit on my deck minutes after we finished. The stain dried very quickly (within an hour) but despite that we did not walk on it for 24 hours to play safe. The stain also cleaned off of my skin with some soaking and soap. So far water is running off of my deck if it would be plastic, but it looks and feels like natural wood, with all its warmth. Cannot ask for more.

thesealerstore, processed my order right away, and my stain arrived with UPS in a few days (free shipping). thesealerstore also answered my questions promptly via e-mail. Excellent customer care!
Parameters of Product: Deck/Wood Stains
Horizontal or Vertical Surfaces
Both