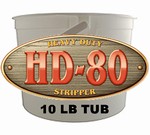 HD-80 Heavy Duty Wood Stripper

Please Read First!
HD-80 was designed to be used only by Professionals in the Wood and Deck Restoration Industry.
Due to the volatile nature of this product we discourage shipping to Homeowners!
We carry many other products that can be used effectively by a Homeowner: Wood Strippers
HD-80 was designed to remove the toughest exterior wood finishes fast. HD-80 will remove even the most stubborn transparent, semi-transparent and semi-solid stains. Used alone HD-80 will effectively remove tough finishes such as CWF-UF, Sikkens, Cabot, Behr, and most semi transparent or oil based finishes.

HD-80 is a highly developed dry powder formulation that mixes easily with water. Mixing your own solution allows you greater flexibility as well as a tremendous savings. HD-80 is extremely stable in solution which allows you to mix a large batch at once to service several crews or simply mix enough for the job at hand. Either way this stability allows for prolonged storage of the mixed solution. Sold exclusively to contractors, HD-80 will be the hardest worker on your crew!
HD80 Stripper Tech Info
Available Sizes:
Coverage Per Gallon:
2 lbs and 10 lbs

100-200 sq. ft

Powder Concentrate:
Application Tools:

2 lbs makes 5 Gallons
10 lbs makes 20 Gallons
Sprayer, Stiff Brush
Purpose:
Neutralize: Yes

Stain Stripper

Citralic Brightener