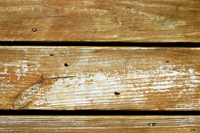 Using an exterior stain stripper is typically needed if the old stain or sealer has failed by peeling, wearing unevenly or when changing brands of stain. A stripper will aid in removing the old stain by softening the bond between the stain and the wood cells. This allows easier removal with a light pressure washing or stiff scrub brush.
The process of using a wood stain stripper is incorrectly considered difficult. In fact, it will save a substantial amount of time while reducing any chance of damage to the deck with a pressure washer.
How to strip an exterior stain:
As previously mentioned, a stain stripper should be used if the old coatings has failed unevenly or if changing brands of stain. If not then using a deck cleaner may be sufficient. If unsure please feel free to ask a question here: Deck Stripping Questions
Remove all furniture from the area. Wear protective clothing, gloves, and eyewear.
Mix the Deck Stain Stripper using the manufactures directions. In many cases, it is best to test effectiveness first by applying to a small section. The reason is that all not deck stains are created equal. Many are more difficult than others to remove. Testing first will determine if it will remove the finish or if you may need to use a stronger stain stripper.
Apply the stain stripper with a pump up sprayer. Best to do sections of 200-400 square feet at a time. Saturate all wood then wait 10-20 minutes. Test wood to see if slippery. This means that stripper has loosened the stain from the wood. If not reapply the stain stripper one more time.
Lightly pressure wash or hand scrub all stain from the wood. Take care to wash with the grain of the wood whenever possible.
Repeat if needed until all stain has been stripped from the wood. Spot strip any difficult areas that did not come clean the first time.
Very important to thoroughly rinse all wood and surrounding areas to remove the wood fibers, dirt, and grime.
Apply a wood brightener to neutralize the deck stain stripper and restore the pH balance of the wood. Failure to apply a brightener will leave the wood in a high "caustic" state that will deteriorate the new deck stain faster than normal.
Important Note: Most Deck Stain Strippers will not fully remove Solid Color Wood Stains, Paints, Varnishes, and Excessively Over-Applied Acrylic Semi-Transparent and Semi-Solid Coatings. To remove these deck and wood stain types, use the RAD Paint & Solid Stain Stripper
If you have any deck stripping questions please ask below. All questions are typically answered within a day.